Gill Divers' Guide : Buying Your Own Equipment
Head down to Gill Divers, our crew can advise and get you outfitted in no time.
Let's breakdown Dive Equipment into Two Phases
Phase 1 : The Basic Dive Equipments (Masks, Snorkels, Fins, Wetsuits)
Phase 2 : The Dive-Life Support Equipment (BCs, Regulators, Dive Computers)
Phase 1 : The Basic Dive Equipments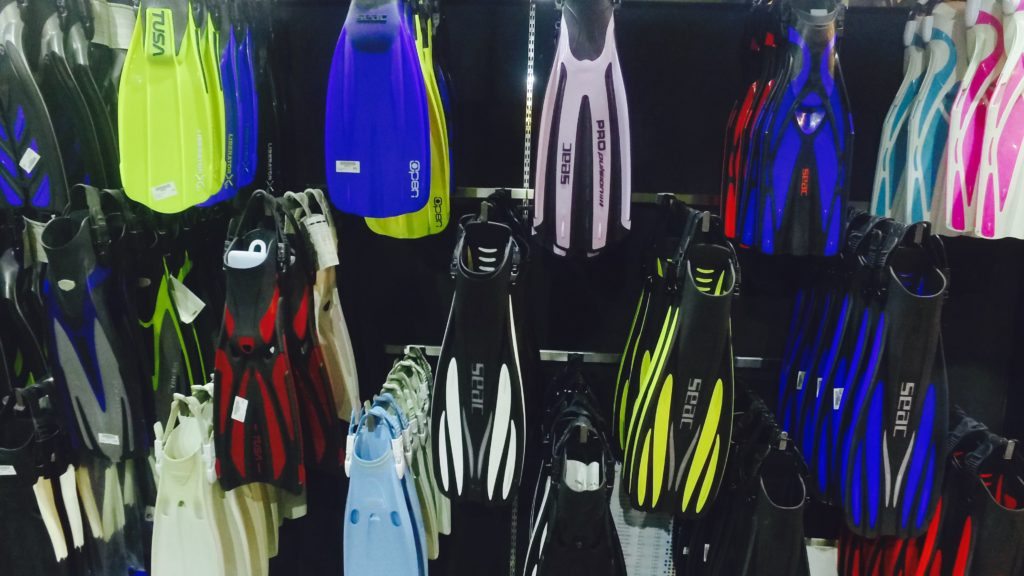 Item No. 3 – Fins
Fins
Fins are made from rubber, plastic or both rubber and plastic. Fins are used to aid movement through the water.
What it does? – Water is 800 times denser than air. With that said, fins are used to aid divers move more efficiently and maneuver underwater. Fins are shaped and designed to provide thrust and power, making it easier to move underwater.
What to look out for? – Comfort. When trying on fins, look for a snug fit, one that doesn't pinch your toes. If you can't wiggle your toes, then the fin is too small for you. Next, lift up your leg, move your feet up, down, left & right. Ensures your fin doesn't shake and remains snugged.
Efficiency. Different fins have different efficiency, propulsion, power and thrust. They're determined by their size, stiffness and design.
Price Range – $75 to $300
Gillmen Advice – Get fins that you're comfortable with, in terms of weight and material, depending if your legs are negatively or positively buoyant. Pick a fin that suits your kicking style underwater.
Good fins will enhance your enjoyment of diving.
Thinking of Buying Fins? Stay tune for our New Promotion!
Stay tune for our next post – Phase 1 : The Basic Dive Equipments, Item No. 4 – Wetsuits