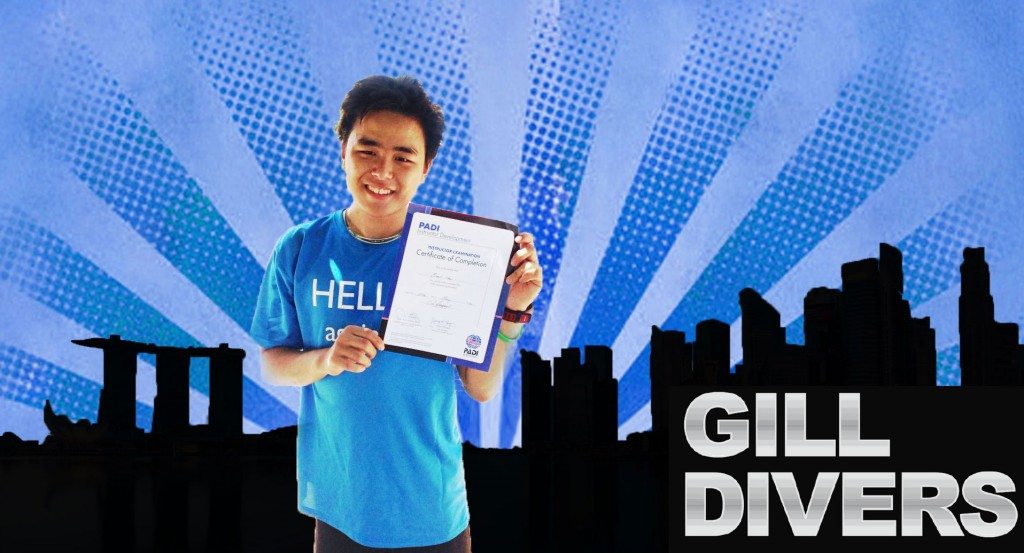 If you have been to Gill Divers within the past year and a half, you have probably encountered Ernest in the shop or on a dive trip. He joined us in January 2013 and has been a pretty permanent fixture of Gill since then. He just passed the PADI Instructor Examinations yesterday and is now a certified Scuba Instructor. And dang, it just warms the cockles of my heart.
Why? Well, his success just fortifies in my mind at least, that what we do here, is good – with regards to accepting young adults into our fold, guiding and training them. It is not always easy, and sometimes, we get into trouble for it! But after all, this is what the diving business is all about; Transforming lives!
A little background about Ernest, he joined us while he was still schooling, in fact, he did an internship with us as part of his curriculum. And while many of our crew start while in college, Ernest started a tad earlier than most at 17, and hence illustrates the change in sharper relief. at least to me.
The first time he really struck me personally was the first time we dived together. I was guiding in Hantu and he was clocking dives to start his Divemaster course. And though I was not scheduled to train him, he struck me then as someone I personally wanted to train. He never spoke a lot to me, perhaps I intimidate, but his non-verbal communication was telling me he was eager to improve his technique. He was attentive, helpful, above and below the water, you could say Ernest impressed me with his earnestness! He had a really good attitude towards learning, and he started his PADI Divemaster training sometime later.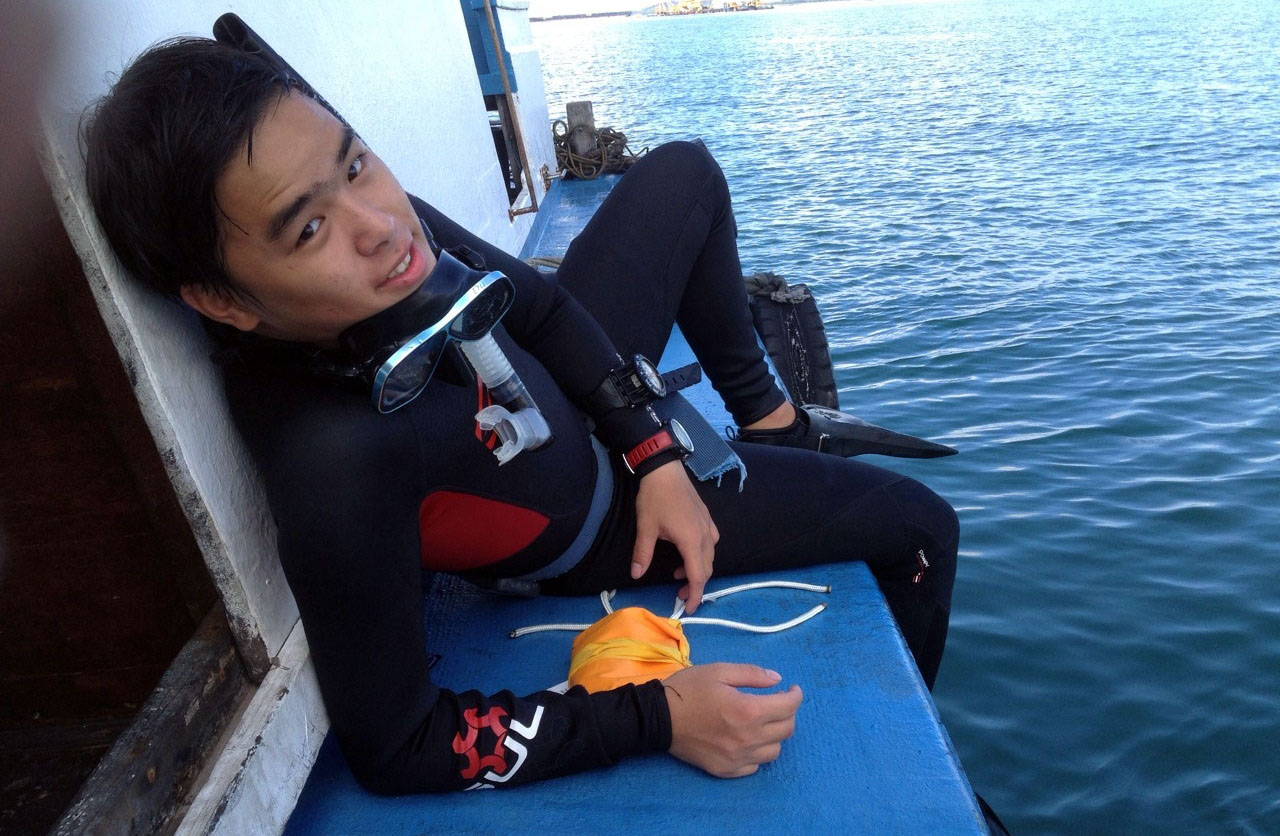 A year later at Hantu doing the PADI IDC, a little wiser, a little fatter.
And the training itself. The counselling, the scoldings, the explaining, the pushing, the mentoring, they all add up and change a person, because being a dive professional requires having a certain attitude about things. The PADI Divemaster course is the ONLY course we can hold certifications back for because of a poor attitude, and we do! And it works well.
I have seen divemaster trainees in their late teens and with bad attitudes have an 180 degree change in their behaviour thanks to our instructors. The best I ever saw was a 18 year old Divemaster Trainee get whipped into shape by a 22 year old instructor. It is as if they mature overnight! Great stuff, this diving business!
And that is the reason why Gill Divers has always been welcoming of young adults, despite criticism. I myself had my 21st birthday in the shop and a few months afterwards found me on the path to being a dive professional. I was part-studying, part-working and diving and I was far from the ideal employee. With next to nothing skills in answering phone calls when I started, I definitely chased away my fair share of business back then. But such is life; we win some we lose some. What makes it all worth the while in the end is the lives that you do touch and change.
And it is my sincerest hope that we can give more chances, more opportunities to young people like Ernest, to let diving transform them. Because it can and will, to those that let it.
So here's the unabashed plug for young adults or late teens even: Come join us! Come start the journey to becoming a PADI Divemaster or if you have more time, join our DMA Program. It is hard work and a lot of effort, but diving is so fun and beautiful. You get to meet such amazing people along the way, the experience can be deeply stirring.
And to Ernest, and all the other shiny new dive pros, including the ones that have been training the others: What you have achieved so far, it is something you can be really proud of. Well done! If you stay open and never stop learning, this amazing edge that you have will be taking you places someday!
~Respect the Ocean~